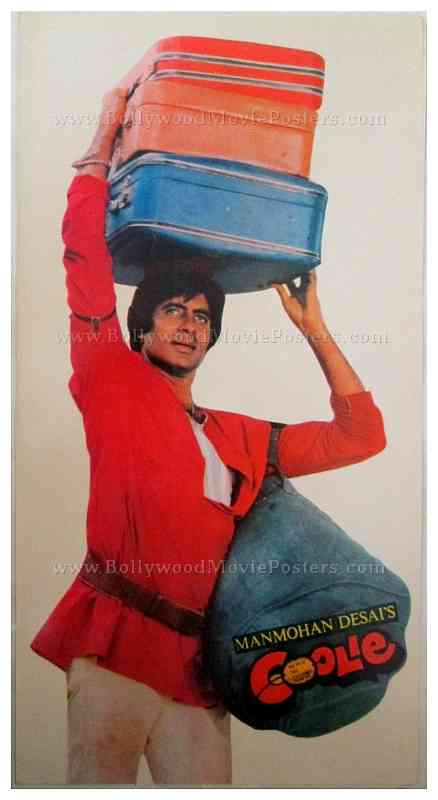 Coolie
Rare old Bollywood pressbook of the blockbuster Hindi film Coolie (1983) for sale.
This is an actual surviving pressbook of the 1983 film that featured the biggest superstar of Indian cinema, Amitabh Bachchan.
Printed and circulated during the first release of the film, this old Bollywood pressbook was originally designed for publicity of the film but never ended up being used.
Coolie is infamous for an action scene that left superstar Amitabh Bachchan critically injured in 1982. It went on to become one of the highest grossing films ever made in Indian cinema, which makes this press book highly collectible!
Vintage Bollywood pressbooks are sometimes also referred to as song booklets, story booklets or synopsis booklets. They contain the lyrics of songs from the film in Hindi as well as in Urdu, and were designed to give theater audiences the chance to sing along while watching their favorite songs on screen. Old Hindi film synopsis booklets provide a further additional step of information – summarizing the plot of the movie as well as the star cast.
Old Hindi film press books, such as the one featured here for sale, make great small wall hangings when framed and displayed on a wall, as they feature interesting artwork of the film on the cover.
Product Description
| | |
| --- | --- |
| Film | Coolie (English translation: Porter) |
| Release | 1983 |
| Cast | Amitabh Bachchan, Rishi Kapoor, Rati Agnihotri & Kader Khan |
| Print Date | 1980s |
| Size | 14″x7.5″ inches |
| Condition | ★★★★ Near Mint |
| Rarity | Rare |
| Folds | Zero |
| Artwork | Photographic |
| Material | Paper |
| Frame | Not included |
| Packing | Medium sized mailing envelope |