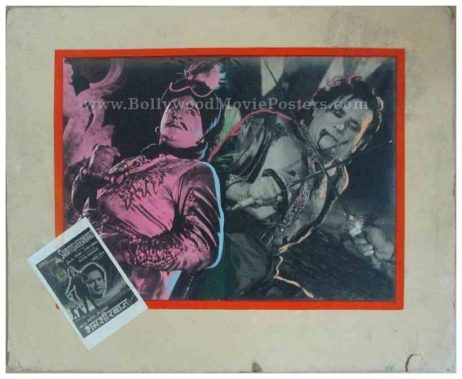 Shamsheer Baaz
Old Bollywood movie showcard of the Fearless Nadia Hindi film, Shamsheer Baaz (1953) for sale.
This is an actual surviving vintage Bollywood showcard of the 1953 film that starred Mary Evans, better known as "Fearless Nadia" or "Nadia Hunterwali" in the lead role.
Printed and circulated during the first release of the film (somewhere in the early 1950s), this old Bollywood showcard was designed and printed for publicity of the film inside a cinema hall.
Showcards were used as pin ups on notice boards inside foyers of cinema halls. Printed on photo paper, they were often mounted on cardboard to make them easy to display. This rare surviving showcard was actually issued to a cinema hall that screened the film Shamsheer Baaz, making it highly collectible!
This old Bollywood showcard features stunning hand colored artwork. Black and white still photographs have been pasted on a board and actually hand colored by an artist. The blue outline and highlights seen in this showcard have been done by hand by a poster artist in the early 1950s.
A black and white miniature poster of the film is seen pasted on the bottom corner of this hand painted Bollywood showcard.
Shamsheer Baaz is one of Fearless Nadia's memorable action packed Bollywood films. Born in Australia, Fearless Nadia was one of the earliest actresses in Indian cinema to star in lead (primarily women-oriented action-packed) roles. In her illustrious career, Fearless Nadia starred in dozens of films produced and directed by Homi Wadia, starting from her debut in the film Hunterwali (1935).
Product Description
| | |
| --- | --- |
| Film | Shamsheer Baaz |
| Release | 1953 |
| Cast | Nadia (aka Mary Evans) & John Cawas |
| Print Date | Early 1950s |
| Size | 24″x19.5″ inches (Showcard size) |
| Condition | ★ As Is |
| Rarity | Very Rare |
| Folds | Zero |
| Artwork | Hand colored over still photos |
| Material | Cardboard |
| Frame | Not included |
| Packing | Flat package |