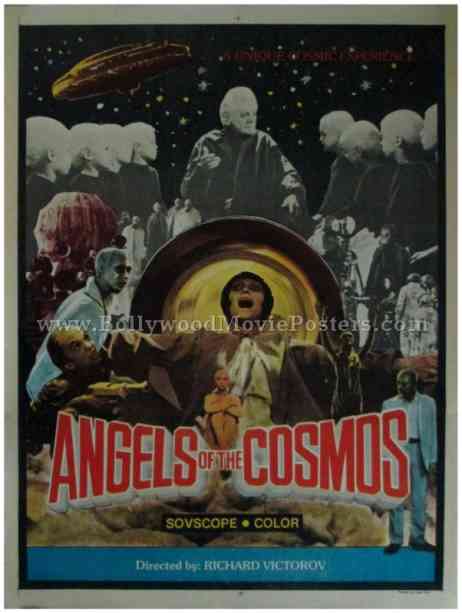 Angels Of The Cosmos
Old Indo Russian movie poster of the film Angels Of The Cosmos (1983) for sale.
Featured here for sale is a vintage original Russian Bollywood movie poster of the film Angels Of The Cosmos which was released in India in the year 1983 in English.
Directed by Richard Viktorov from Russia, Angels Of The Cosmos was a sci-fi space movie produced by Maxim Gorki Studios (USSR) and released in Sovscope.
Printed and circulated during the first release of the film in India (early 1980s), this vintage Russian Bollywood movie poster was originally designed for publicity of the film but never ended up being used.
This vintage original poster features a stunning pop art styled design. Set against a starry space background on the top, the poster features an interesting collage of still photos taken from key scenes in the film. The title of this vintage original movie poster appears in a stunning red font at the bottom.
The rising popularity of Indian films in Russia opened up the borders for both import as well as export of cinema. In the 1970s and 1980s several Russian films were exported by Russia's premier film distributor, Sovexportfilm to India. These films were locally dubbed in Hindi and released in theaters with Indian film titles. Posters for these Indo Russian films were also localized to suit the Indian flavor and were designed by leading Bollywood poster artists of the time.
Product Description
| | |
| --- | --- |
| Film | Angels Of The Cosmos |
| Release | 1983 |
| Cast | Unknown |
| Print Date | Early 1980s |
| Size | 40″x30″ inches (Standard movie poster size or one sheet) |
| Condition | ★★★★ Near Mint |
| Rarity | Rare |
| Folds | Two |
| Artwork | Photographic |
| Printer | Leela Arts Bombay |
| Material | Paper |
| Frame | Not included |
| Packing | Rolled into unbreakable tube |