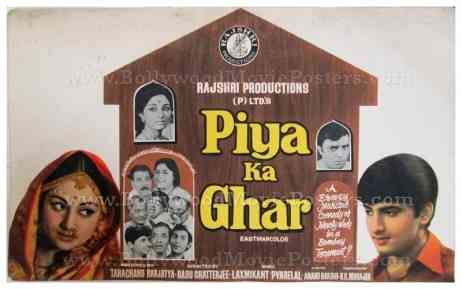 Piya Ka Ghar
Vintage Bollywood poster of the hit Hindi comedy film, Piya Ka Ghar (1972) for sale.
This is an actual surviving small sized, old Bollywood poster of the 1972 comedy that featured Jaya Bhaduri Bachchan & Anil Dhawan in lead roles.
Printed and circulated during the first release of the film (somewhere in the early 1970s), this vintage Bollywood movie poster was originally designed for publicity of the film but never ended up being used.
This is a very small sized publicity poster, measuring only 18.5″x11.5″ inches, making it incredibly rare and very collectible!
The poster features an interesting collage of still photos of lead actors Jaya Bhaduri and Anil Dhawan at the bottom, whereas the remaining characters appear in a smaller still photos pasted inside a home shaped cut out at the center. Typography used in the poster is completely in English.
Piya Ka Ghar (My husband's home) is a 1972 Bollywood comedy film starring Jaya Bhaduri & Anil Dhawan in lead roles. The film is an adaptation of Raja Thakur's Marathi film Mumbaicha Javai.
Product Description
| | |
| --- | --- |
| Film | Piya Ka Ghar |
| Release | 1972 |
| Cast | Jaya Bhaduri, Anil Dhawan & Paintal |
| Print Date | Early 1970s |
| Size | 18.5″x11.5″ inches (Lobby Card size) |
| Condition | ★★★★ Near Mint |
| Rarity | Rare |
| Folds | Zero |
| Artwork | Photographic |
| Material | Paper |
| Frame | Not included |
| Packing | Rolled into unbreakable tube |
You may also like…
Quirky hand painted old Bollywood movie poster of the Hindi film Hamrahi (1963) for sale.

This is an actual surviving vintage poster of the 1963 film, which featured "Jubilee Kumar," actor Rajendra Kumar along with Mehmood & Shubha Khote.

Printed and circulated several years after the first release of the film (somewhere in the 1970s), this quirky hand drawn old Bollywood movie poster was originally designed for publicity of the film but never ended up being used.

This old Bollywood poster was originally designed on a hand drawn canvas by a small time poster art studio in Madras, making it very collectable. The entire poster is printed in a single color tone, giving it a very quirky, vintage look and feel. The bottom of the poster features the three lead characters of the film etched in a pencil like drawing.

Typography in the poster is seen both in English as well as Devanagari Hindi at the bottom.

Hamrahi (1963) is a Hindi film starring Rajendra Kumar, Mehmood, Shubha Khote, Jamuna & Lalita Pawar

Actor Rajendra Kumar earned the moniker "Jubilee Kumar" due to the widespread success of his films in the 1960s (most of his films crossed the silver jubilee mark).

Details