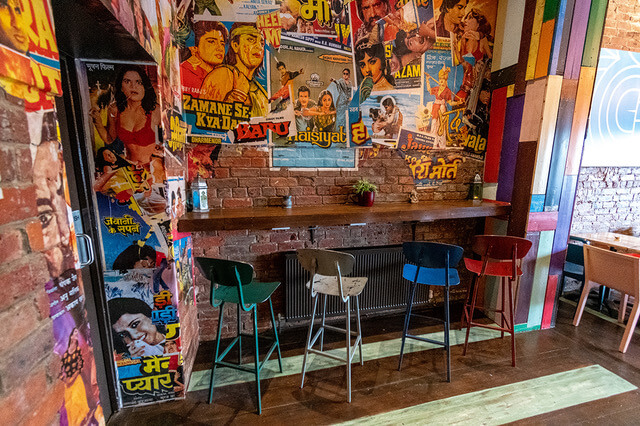 Hand painted Bollywood movie poster art has a fascinating history. It is interesting to learn how hand painted Bollywood movie posters were artistically designed & mass duplicated in the past.
Typically, senior artists (either self-taught or art school graduates) would take on the challenging task of designing a hand painted Bollywood movie poster for the publicity of a film. These senior artists were generally art studio owners, with some of them employing dozens of talented artists in their team. After closely studying the project brief that was available to them – which could range from as little as a brief synopsis of the plot or as much as multiple still photos shot on the set location, these highly experienced Bollywood movie poster artists or Bollywood poster painters as they were known, would go about the task of designing an entire Bollywood movie poster completely by hand.
Starting with either a blank sheet of canvas or cloth which was specially prepared by adding a texture to the surface using crushed cattle bone, a pencil sketch or an outline was first created. Expert artistic brush strokes were then applied using a wide array of locally available powder colors dipped generously in linseed oil. Bright, almost fluorescent highlights were added to faces in order to illuminate them and put the stars under the spotlight in each hand painted Bollywood movie poster.
Focus was given on bringing out the raw energy and emotion behind the characters essayed by the stars as opposed to only capturing their stardom. In most hand painted Bollywood movie posters, different shades of colors were used to portray different shades of characters. Pink for example was the color of choice to depict characters deeply in love. Most romantic Bollywood movie posters exhibit the leading couple hand painted in an alluring pink tone. In the same vein, dramatic shades of blue and green were used generously to depict villainy or envy in hand painted Bollywood movie posters. Red was synonymous with anger. Perhaps the greatest example of red being used consistently to exhibit a character in hand  painted Bollywood movie poster art is in the case of Bollywood's biggest star Amitabh Bachchan. Labeled as the original angry young man of Indian cinema, most of Amitabh Bachchan's hand painted Bollywood movie posters exhibit a deep red tone used consistently as the color of choice while painting his portrait. Many painters, such as the country's highest paid and widely regarded as the best Bollywood movie poster artist, Mr. Diwakar Karkare, also used a knife overlay to add a ruggedness or texture to the portrait depicting machismo.
Mass duplication
Often, dozens of different designs were hand painted by the Bollywood movie poster art studio or artist commissioned to design the poster. These designs, all hand painted art works on canvas, would then be reviewed by the production house or producer(s) of the Bollywood movie in question. After the production house had selected one or multiple hand painted designs (the latter was usually the case), the process of duplication would begin.
Duplication techniques of the past were just as primitive as the process used in hand painting Bollywood movie posters. Since there were no enlargement or reduction techniques available at the time, the canvas poster designs had to be exactly the same size as the size of the duplicated paper print required. Hence, more often than not, hand painted Bollywood movie posters were designed in single sheet or one sheet size (40"x30" inches approximately or a tad less than A0 size).
Hand painted Bollywood movie poster canvases were then carefully mapped into offset lithography or litho offset positive plates for printing. Once the positive plates were ready, a single hand painted Bollywood movie poster canvas would be converted into hundreds of thousands of paper prints taken on thin gauge, low quality paper. These hand painted Bollywood movie poster prints were circulated to cinema halls all across the country for the purpose of publicity. Very few of these artistic posters survived as a result of being unused and lying forgotten in dingy warehouses of shut down cinema halls and distributor offices.
The advent of photographic movie posters
With its origins as a purely hand painted art form, Bollywood movie posters continued to be completely handmade up until the 1960s when still photography came into vogue. Bollywood movie poster artists and designers in this time period suddenly had access to a wide variety of good quality still photographs shot on location of the Bollywood movie set. These still photographs allowed Bollywood movie poster artists to simply cut faces or figures of the actors out from the still photos and paste them against a hand painted background.
This process, simply known as cut-paste, allowed a Bollywood movie poster painter to design a movie poster in a matter of hours, without using much creativity or time consuming hand painted techniques. The figures or faces of the stars would be cut out from the still photos by simply using a pair of scissors or a blade, and then pasted on to either a paper or canvas sheet in a collage fashion. A hand painted background was added to make the arrangement look like a hand drawn Bollywood movie poster, and hand painted typography was used to add the Bollywood movie title and credits.
The cut-paste technique of designing Bollywood movie posters was a boon for poster artists commissioned to design movie posters for multi-starrer films. Some cut-paste Bollywood movie posters would commonly feature over a dozen actors crammed into one poster.
The advent of computers and digital design & printing techniques finally drew the curtains on this age old hand painted art form in the early 1990s.
Today, owing largely to its one-of-a-kind art style and limited availability, hand painted Bollywood movie posters of the past are extremely desirable. The fact that very few old Bollywood movie posters are in existence today has catapulted its value and desirability further.
Now, you can own this beautiful vintage art at a fair price available exclusively through the Bollywood Movie Posters (BMP) store.