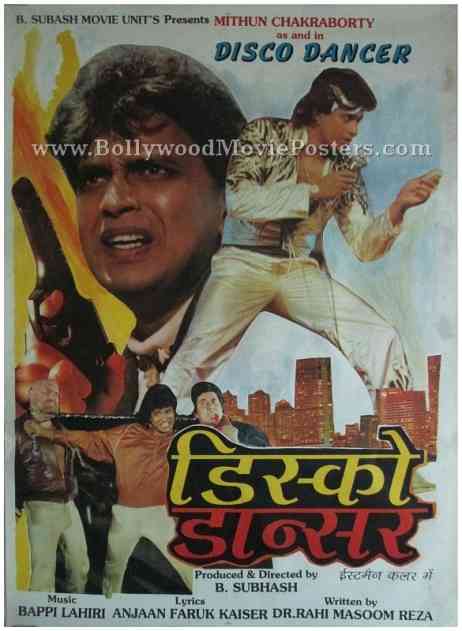 Disco Dancer
Old Bollywood poster of the classic Hindi blockbuster, Disco Dancer (1982 ) for sale.
This is an actual surviving old Hindi movie poster of the 1982 Bollywood hit starring Mithun Chakraborty in the lead role.
Disco Dancer was a worldwide success. The film became an overnight sensation in the Soviet Union owing largely to its memorable music composed by Bappi Lahiri and Mithun Chakraborty's signature disco dance moves. Songs from the film such as "Jimmy Jimmy Aaja Aaja" and "I Am a Disco Dancer" are still fondly remembered and played in Russia.
Printed and circulated a few years after the first release run of the film (late 1980s), this retro Bollywood movie poster was originally designed for publicity of the film but never ended up being used.
This vintage Bollywood film poster features a still photograph of Mithun Chakraborty from the iconic song "I Am a Disco Dancer."
Product Description
| | |
| --- | --- |
| Film | Disco Dancer |
| Release | 1982 |
| Cast | Mithun Chakraborty & Rajesh Khanna |
| Print Date | Late 1980s |
| Size | 40″x30″ inches (One sheet) |
| Condition | ★★★★ Near Mint |
| Rarity | Rare |
| Folds | Two |
| Artwork | Photographic |
| Material | Paper |
| Frame | Not included |
| Packing | Rolled into unbreakable tube |